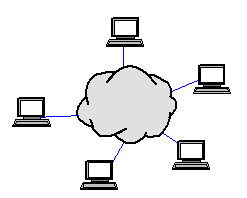 What's old is new again; Cloud computing (a.k.a. grid computing, utility computing, computing on-demand) which was talked about nearly ten years ago, is once again the horizon (pun intentional). One of the December cover stories of BusinessWeek did an in-depth series of cloud computing and spelled out several lofty initiatives that IBM and Google have underway. It appears Microsoft, Yahoo and Amazon are quickly following suit to tap into a potential goldmine for data storage and access services.
Google is betting that cloud computing will support a 300-year plan to make everything – and possibly everyone – online and searchable. Recently, Google teamed with IBM to bring cloud computing into academia with a six university pilot program. An increasing number of businesses are looking at cloud computing as a foundation for their business processes. Gartner Group picked cloud computing as one of its Top 10 Strategic Technologies for 2008, noting that companies must evaluate the positive impact of SaaS and web platforms that provide "access to infrastructure services, information, applications, and business processes through 'cloud computing' environments." We'd like to respectfully add online databases to this list as well.
Last week our client, LongJump, made an announcement that put them at the forefront of startups offering online databases on-demand. LongJump announced its powerful new "cloud database service" that presents several potential advantages for a web startup. LongJump's DaaS is a fully managed infrastructure and administered relational database architecture that includes: SAS 70 Type II data protection compliance, enterprise-level security, flexible access and control, real-time mirrored database replication, and 99.999% application uptime.
In spite of announcing in the throes of CES, LongJump's DaaS announcement was able to rise above the noise and land in some prominent publications, news venues and blogs. Here's a brief snapshot of some of those news stories: